Cindy Cash is a proud supporter at Richmond North Public School. Cindy helps out with the fundraising BBQ's that are held at Aldi's North Richmond so if you see her, pop over and say hello. Earlier this year Richmond North PS held a Space Camp Auction night which was a huge success. Cindy and other members of the Ray White team attended to help support this great event.
Geoff Luscombe has taken out the Platinum sponsorship for P&C activities at Grose View PS in 2016. Geoff's children have all attended Grose View and he has been incredibly involved with their fundraising activities for several years, and we are very excited for this years sponsored events.
Ray White shines a light on giving during the festive season
Every Christmas, Ray White continues its popular tradition of giving with the return of a Little Ray of Giving. The inspiring Christmas campaign will see Ray White Windsor and North Richmond partner with Richmond Rotary to help disadvantaged children who may need a little extra light in their festive season.
Ray White asks Australians to embrace the giving season and dig deep for children in their community who need it most. The campaign will officially launch's in Australia and New Zealand in December each year.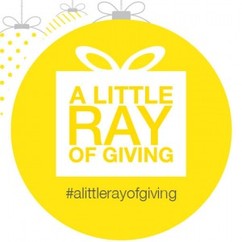 Every year, Australians are asked to donate a gift for a deserving child and drop it into one of their participating Ray White offices. This gift drive is a really simple way to help put a smile on the face of children and families who may need some extra cheer at this time of year, said Ray White's Peter Chidgey.
"All you need to do is wrap up your present and drop it under the tree at the Ray White Windsor or North Richmond offices," said Peter.
Ray White Windsor and North Richmond will each have a special giving tree in their front window during December, to collect gifts for children and families who will be doing it tough during the festive season.
Those who wish to donate a gift just need to inform the Ray White team if the gift is for a boy or girl, and nominate an age group. The team will ensure the gift is delivered to a disadvantaged child and help put a smile on their face this Christmas.
"It's a really simple way to put a smile on the face of a young child who might otherwise go without this Christmas," said Peteradding that just a small gift can make the biggest difference to families who are struggling at an expensive time of year.
Ray White has run this initiative across Australia and New Zealand each December since 2012. Last year nearly 300 offices across Australia and New Zealand helped raise 15,000 gifts for disadvantaged families this Christmas.
What's on at the North Richmond Community Centre
Check out the latest before and after school care, Yoga, Zumba, Martial Arts classes, learn to play guitar, volunteer and much more. Check out the Events Calendar for full details!
North Richmond Community Centre